Mr. Norm Laurendeau, O.P.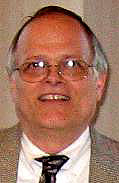 About
Mr. Norm Laurendeau, O.P.
Norm Laurendeau was a lay Dominican and a semi-retired professor of Mechanical Engineering at Purdue University who died in May 2012. He published and conducted research in the areas of energy and environment, with a focus of the use of lasers to monitor pollutants. He was a fully professed lay Dominican since May, 2006. While moderating the St. Mary Magdalene pro-chapter in West Lafayette, IN, he was instrumental in developing a lay preaching mission within chapter meetings and at communion services. He was also heavily involved in the science-theology dialogue, and explored the relationship between science and mysticism. In 2010, he chaired a conference on Energy and Religion for the Institute for Religion in an Age of Science (IRAS). Most importantly, he was married to Marlene Carlos Laurendeau, who is a social worker and spiritual director. They lived in Brunswick, ME, near where Norm grew up. They wintered in Berkeley, CA, near where Marlene grew up.
Posts by Mr. Normand Laurendeau, O.P.:

Podcast: Play in new window | Download
For 30 November 2010, St. Andrew, based on Romans 10:9-18, Matthew 4:18-22