Dr. Laura Dejmek, O.P.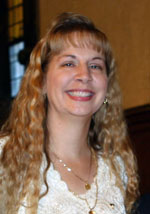 About
Dr. Laura Dejmek, O.P.
Laura is a single, Lay Dominican living in Chicago Illinois. Her life experiences include teaching elementary school music to children ages six through twelve. Laura is a regular ecumenical preacher at two Episcopal parishes in the suburbs of Chicago. She is the Promoter of Preaching for Lay Dominicans in the Central Province of the United States. Laura received her doctorate in ministry in preaching via the ACTS D.Min in Preaching program in Chicago. Laura received her Master of Divinity degree from Catholic Theological Union in Chicago, Illinois with a double concentration in Biblical Studies and Liturgy. She is the first Master of Divinity student at Catholic Theological Union to complete this degree with a double concentration. In addition, to having a Master's of Music, Laura is a classically-trained soprano.
Posts by Dr. Laura Dejmek, O.P.:

Podcast: Play in new window | Download
For 16 October 2013, Wednesday of 28th week, based on Luke 11:42-46