Sr. Magdalen Coughlin, O.P.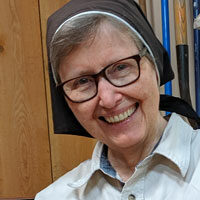 About
Sr. Magdalen Coughlin, O.P.
I am a Dominican Nun, a native Canadian and member of the Squamish British Columbia community, a new foundation in Western Canada, We are establishing a monastic community here in the Canadian wilderness. We welcome visitors and retreatants who come to this place, sometimes purposefully, sometimes blindly, in search of silence, rest, healing, and often, for meaning in the chaos of life. It is of course the God of Love who draws them, and it is our privilege to be here for them.
Posts by Sr. Magdalen Coughlin, O.P.:

Podcast: Play in new window | Download
For 28 July 2023, Friday of week 16 in Ordinary Time, based on Matthew 13:18-23