Margaret Ormond, O.P.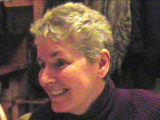 About
Margaret Ormond, O.P.
Margaret Ormond, OP is a member of the Dominican Sisters of Saint Mary of the Springs which she entered in 1962. She comes from Brooklyn, New York and spent most of her ministerial life in Connecticut, Ohio and Illinois, where she worked in education, formation, preaching with Parable and leadership. In 1998 she became the first International Coordinator of Dominican Sisters International (DSI). She just completed nine years in this ministry and hopes to continue some form of missionary work in East Africa.
Posts by Margaret Ormond, O.P.:

Podcast: Play in new window | Download
Thirty-second Sunday in Ordinary Time, based on 1 Kgs 17:10-16, Mk 12:38-44